I now join that illustrious list of pasts! I mean of course Past County Captains. I handed over to Ruth Coleby on Saturday and presented her with the Captain's badge. I know the County will be in good hands with Ruth, Vice-Captain Val Forsythe and President Linda Young along with the hard-working Executive Committee. Whilst I may now be officially past it, I will still be around to help and support Ruth and the Exec in any way I can – so I've not quite gone yet!
Thank you everyone for your support over the year, I really have appreciated this very much.
Wishing you all a happy Christmas and all the very best for a great 2023 whatever that may bring.
Jenny.
What a wonderful day we had on Saturday. The weather was kind for a change as 21 enthusiastic, keen golfers headed out onto the course: Seven teams of three, each consisting of a County Vet, Lady and Junior, stableford best two scores to count. This was an opportunity for our Junior Girls to meet each other and to play a different course with more experienced players. My goodness, we do have some talented young golfers coming through, each regularly scoring 3 points, 4 pointers and we even had a 5 pointer (birdie on the 4th hole wow!) keeping the team scores respectable. They are a spirited group of young girls, full of fun and just want to play golf. How good is this. The winners were Paula Dixon (County Vet) Ruth Coleby (County Vice-Captain) and Sienna Haslam (Junior) with an amazing score of 86 points. Whilst this was a first, all three sections of the County playing together, it most certainly won't be the last.
I would like to thank Penrith GC for their support in extending courtesy of the course to us which we really do appreciate and to Ricky, Nicky and their team for providing the eagerly awaited sandwiches and chips after playing. Finally thank you to everyone who came along to make this a special day bringing the season pretty much to a close and what a way to do it.
Jenny
County Captain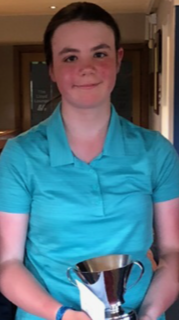 England Golf Regional Squads
Some brilliant news Becca Wildey (Eden Golf Club), County Girls Junior Champion and County Squad Member
has been accepted back onto EG's Regional Coaching Squad this coming winter. This is a tremendous opportunity
and recognition of all the hard work, time and commitment Becca has put into her golf.
We wish her all the very best in her next steps in this incredible golfing journey.
Jenny
County Captain.
CLCGA Autumn Meeting Silloth GC 18th September
As I was diving down to Silloth in the torrential rain I couldn't help but wonder if we would actually manage to play! On arrival the putting green was showing signs of puddles here and there, the rain wasn't quite as bad as it had been but it was still pretty unpleasant and the wind was, shall we say slightly stronger than a breeze. The green keeping staff were out doing a course inspection.
This is supposed to be our 'autumn' meeting!
The Silloth ladies were reassuringly saying it was due to blow over. Our first ladies braved the weather and set off down the fairway clad in waterproofs with brollies up. Thankfully it did blow over and the weather slowly improved. But it wasn't to last and we had a real mixed bag, rain, breeze turning to a right hoolie and actually quite cold but the sun came out for the last few ladies as they came down the 16th/17th and 18th.
A big thank you to Silloth Golf Club for hosting and special thanks to Club Manager Alan, Liam, Angela, Kyla, Ollie, Davina, and Lady Captain Jos. The flowers on the Presentation table looked stunning. Not forgetting the green keeping staff, the course was in great condition, and looked immaculate, a great team effort. Thank you.
Winners
Josephine Young Silloth AnnMarie Fitpatrick Silloth Joanne Adamson Carlisle
Second Place
Sandra Moore Silloth Glenys Aucott Silloth Clare Fulton Silloth
Third Place
Janette McWhirter Appleby Alyson Wood Furness Anne Edwards Furness
Fourth Place
Doreen Mattinson Cockermouth Kathleen Stevens Keswick Judy Figg Keswick
Full results along with the winners photos can be found on the County website – Competitions – Autumn Meeting – Results (and photos)
Many congratulations to the winners, and thank you to everyone who supported this event, it was one of the best entries we have seen.
Jenny
County Captain.
NORTHERN GOLFER CLUB CHAMPION OF CHAMPIONS
Longhirst Hall GC, near Morpeth Sunday 17th September 2023
Huge congratulations to our own Abby Roper on becoming Champion
Abby is in stunning form shooting 2 under par, best gross but also the best nett score.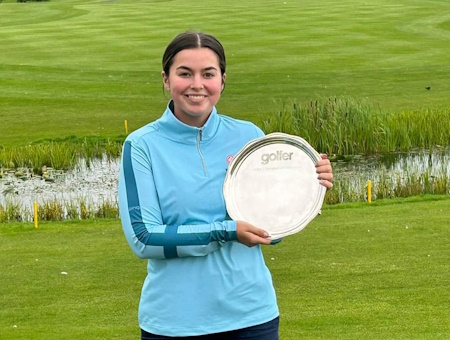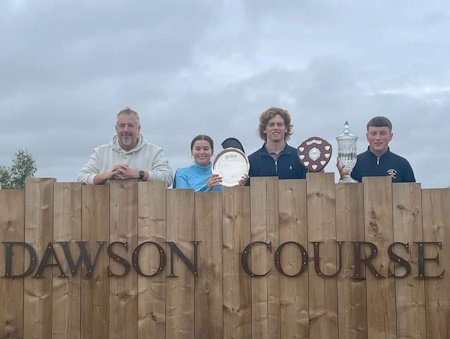 We are delighted to tell you that Cumbria were represented at last weekend's Champion of Champions Tournament, which was played at Woodhall Spa on the Bracken Course.
County Champion, Abby Roper, Seascale GC came 12th. Unfortunately, the tournament was cut short with play being abandoned during the second round due to thunder and lightning resulting in the top two leaders going into a playoff.
County Junior Champion Rebecca Wildey finishing 6th after 36 holes.
Many congratulations and well done to our Champions.
Many congratulations to County Champion Abby Roper who broke the course record at Seascale Golf Club last Saturday, shooting an incredible 4 under gross – wow!
1 bogey, 3 birdies and an eagle on the 16th, how good is that. An incredible round of golf which you will remember all your days. Well done Abby.
Ladies English Amateur Championships 1st - 6th August 2023
What a fantastic performance from County squad member Caitlin Whitehead who qualified in second place in the stroke play, shooting level par progressing to the match play stage of the championship.
Winning her first match v Honor Johnson 2 &1 with a convincing win in the next round v Raphaela Dyer 4 & 3. Quarter-finals saw her take on Ellen Hume winning on the 19th in the wettest conditions known to man, greens like ponds wow! Semi-finals loomed playing Ellen Yates what a close match and only just missing out 2 & 1. Hard luck Caitlin. Ellen went on to win the Championship.
Well done Caitlin, an inspiration to all and we are so proud of you.
Jenny CC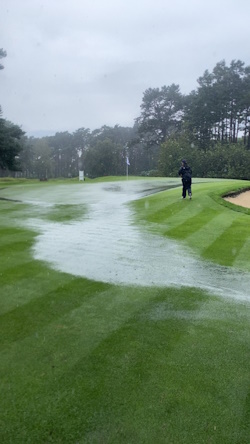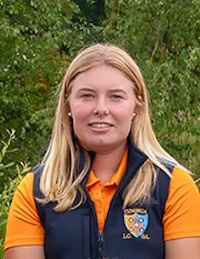 County Junior Captain Carys McDonough wins the St Andrew's Junior Ladies Open Quaich (H'cap), beating Orla Rooney in a close final taking the match 2/1. The final was played over the Old Course which is a challenge in itself. What a fantastic photo – on the Swilcan bridge with the Girls' Open Quaich trophy in hand, huge congratulations Carys, we are all very proud of you. Well done , Jenny. CC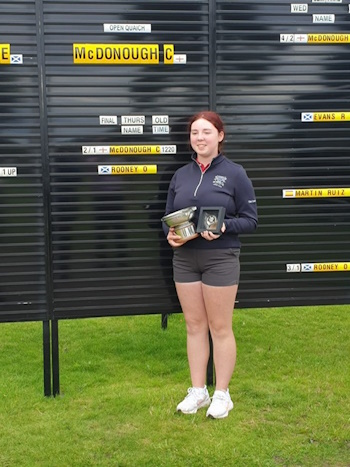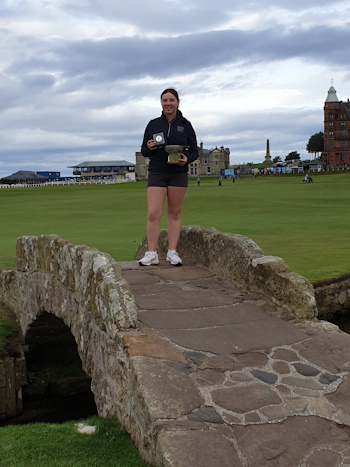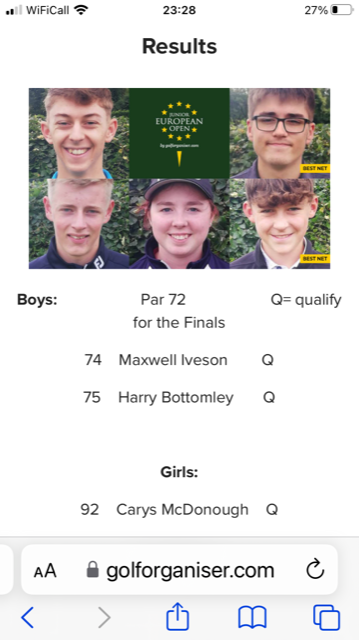 Junior Girls Captain, Carys McDonough is on her travels once again, only this time she will need her passport! Destination, Cadiz Spain 17th-25th November to play in the Junior European Open Champions Week which is played over 5 days on two of the top courses in Europe.
Carys recently played in a Regional Final at Low Laithes GC, W. Yorks taking top place.
As part of her prize, she will receive the following: all green fees (minimum of four rounds plus a fifth for those who make the cut), 7-nights' accommodation in first class location, specially commissioned individually personalised trophies to all the finalists and prize-presentation dinner with drinks.
The Junior European Open, first staged in 1993 and now in its 31st year, is widely considered as the toughest test in junior golf across Europe.
Really well done Carys, it sounds fantastic and so well deserved, you put such a lot of time and effort into your game. Good luck we will all be routing for you, play well and enjoy the experience.
Monday 17th July at Kendal GC
4BBB Stableford.

After having put the weather behind us at Silecroft we were all hoping and praying for some decent weather, the day started well, sunshine and a gentle breeze! The views were glorious and made a perfect backdrop to the team photos on the first tee. (Apologies if we didn't manage to get you all) A big thank you to our starters County President, Joan and County Competitions Secretary, Carol. I did a brief stint as well and it was a lovely opportunity to have a chat with ladies. The weather turned mid-afternoon, once again the heavens opened and the wind got up. Thankfully it did stop this time after about an hour. Our grateful thanks to Lady Captain, Vanessa Brennand, Sheena Leack Competitions Secretary, Nancy Stock for the beautiful flowers which were in County colours and to Jean Newhouse for the delicious homemade cake.
Winners Pauline Hodson & Jean Newhouse
Runners-up Cherry Archer & Sheena Leack
3rd place Sue Kirkby & Janette Dutton
Many congratulations to the winners and well done to all who played.
The full results are on the County website > Competitions > scroll down to
4BBB Ladies and click on Results.
Jenny
County Captain
County Junior Captain and County Team member Carys McDonough is set to play in the English Schools Under 16s National Final at Hearsall Golf Club in Coventry on Monday 17th July 2023
The English Schools Golf tournament is designed to promote, encourage, and regulate golf in schools in England. The tournament takes place initially at County Level between schools, both individually and if a school has enough players, as a team too.
The winners of each boys and girls category, if they have a low enough handicap, will go through to the relevant Under 19s/Under 16s categories. After torrential wind and rain reduced the qualifying round at Kendall in April to 9 holes, Carys McDonough qualified for both Under 19s and Under 16s this year.
For the Under 19s, as there are so many boys particularly who qualify, they do a Northern and Southern Regional Final to decide who is playing in the Grand Final of a much smaller field. In the Under 19's at Cleckheaton on 02nd June 23 for the Northern Regional Final Carys played very well over the 36 holes against some strong opposition, many who are England Regional or England players and was a reserve for the recent U19 Grand Final.
For the Under 16s National Final Carys is travelling to Hearsall Golf Club in Coventry for her practice round on Sunday and the 36 holes on Monday. She is going into the tournament as one of the highest handicapped players but it is off scratch.
Carys can only do her best and she will be proud to represent both Cumbria and Queen Elizabeth Grammar School Penrith no matter what the outcome.
https://www.englishschoolsgolf.org
Monday, 10th July at Silecroft
CECIL LEITCH 5-CLUB FINAL
Thirty-eight ladies took part representing 20 clubs.
We each stood on the 1st tee full of enthusiasm and praying for no rain, thunder, or lightning. Whilst we did get rain in bucket loads none of us had counted for the wind which was blustery to say the very least! However, the views across the bay onto Black Combe were stunning as was the vast sandy beach. Think most of us were captivated by the sight of horses (and riders) cantering up and down the beach.
A big thank you to our stoic starters County president Joan and County Secretary Fliss who did a sterling job setting us all off.
Julie, Yvonne, and Ken made us all very welcome as we wandered back into the clubhouse looking somewhat wind swept and damp. Our meals were all homemade by Julie, the food was amazing and more than made up for all that the weather had thrown at us.
Many congratulations to the winners and well done to all who played.
Audrey Brooks Keswick 41 1st
Pauline Murray Ulverston 35 2nd
Lindsay Cooper Windermere 35 3rd
Marjorie Simpson Brampton 33 4th
The full results can be found on the website > Competitions > scroll down to Cecil Leitch 5-Club Final and click on Results.
Photos are on the County Facebook page.
Dear Volunteers,
Well, what a week we had, not sure why we are still referring to this as a 'week' but anyway I wanted to write to say a massive thank you for all your help in making this a successful and enjoyable event for everyone concerned.
Without volunteers these types of events just wouldn't be possible.

I would also like to acknowledge the County Executive, as you might imagine CMW has occupied a lot of time at our meetings and I am very grateful of their help and support throughout.

CMW Office
Janet Davis, Fliss Holloway, Kath Joynt and Barbara Gibson. What a team, you worked very long hours in making sure that everything ran like clockwork. That is certainly how it seemed to everyone outside of those four walls. Perhaps what went on in the office stays in the office though!!

I would like to thank our County Website Manager Rosie Wadmore who was responsible for setting up the Match Week tab. (This was updated regularly by Fliss in the office.)

Referees
Head Referee Isobel Williams and her team ensured that Pace of Play was enforced as much as possible and that the game was played in the spirit intended within the R&A Rules of Golf. I hope you didn't have too many challenging moments.
Carol Ramsay
Lisa Hamlin
Bruce Bedford
Ashley Kent
Pat Williams
Bernie Legg
Carol Slinger

Starters
Malcolm Wheadon County Union President and Course Rating Secretary
Alan McLean County Union President Elect and Chair of County Competitions Committee
What stamina these gentlemen had; they were on the tees from start to finish Monday to Wednesday. Not only did they start matches but entertained us at the same time. When they weren't starting, they were out on the course watching play. Marvellous.
On-Course Scorers
You will see from the list below just how many volunteers were needed. They did a cracking job of noting scores and timings as players passed through, advising the office who in turn were able to update the large scoreboard and County website. I hope you managed to have a wander around from time to time to see some of the fantastic golf on show.
Joan Dent
Mike Dent
Gill Fellows
Judith Clifford
Sheron MacGillivray
Lesley Westwood
Paula Dixon
Carole Story
Kath Joynt
Sue Cotter
Angela Ellwood
Alison St Quintin
Jacqui Raw
Anne Crockett
Joan Britland
Denise Dixon
Trolley Pullers
We had a small group of 'Dad's 'as well as volunteers:
Neil Gribbon
Steve Sibley
Mark Wildey
Derek Hodgson
John Davidson
Rosie Wadmore
Carol Slater
Carol Storey
Margaret Cranston
Jennifer Jackson
Paula Dixon
Kathryn Bulman
Nicola Wood
Gill Spedding
Rosie Waller
Jean Newhouse

Not sure why we still call you 'Trolley Pullers' as most players these days have an electric trolley! As you know under the current CMW rules Trolley Pullers are not permitted to give advice. This is a very difficult thing to police, not just this year but over many years gone by. The whole issue of Trolley Pullers will be debated by the North Region Voting Members as part of the post CMW review. I hope you enjoyed the experience of seeing some fantastic golf first hand. You will certainly have put in some miles as well.
On behalf of Cumbria Ladies County Golf Association thank you, your help is invaluable and very much appreciated and acknowledged by everyone involved.
The good news is that Cumbria won't host again for another 6 years – BUT we will be down at Lancaster Golf Club next year when they host CMW. Dates for your diaries: 17th – 19th June 2024
Kind regards,
Jenny
Jenny Bland
CLCGA Captain.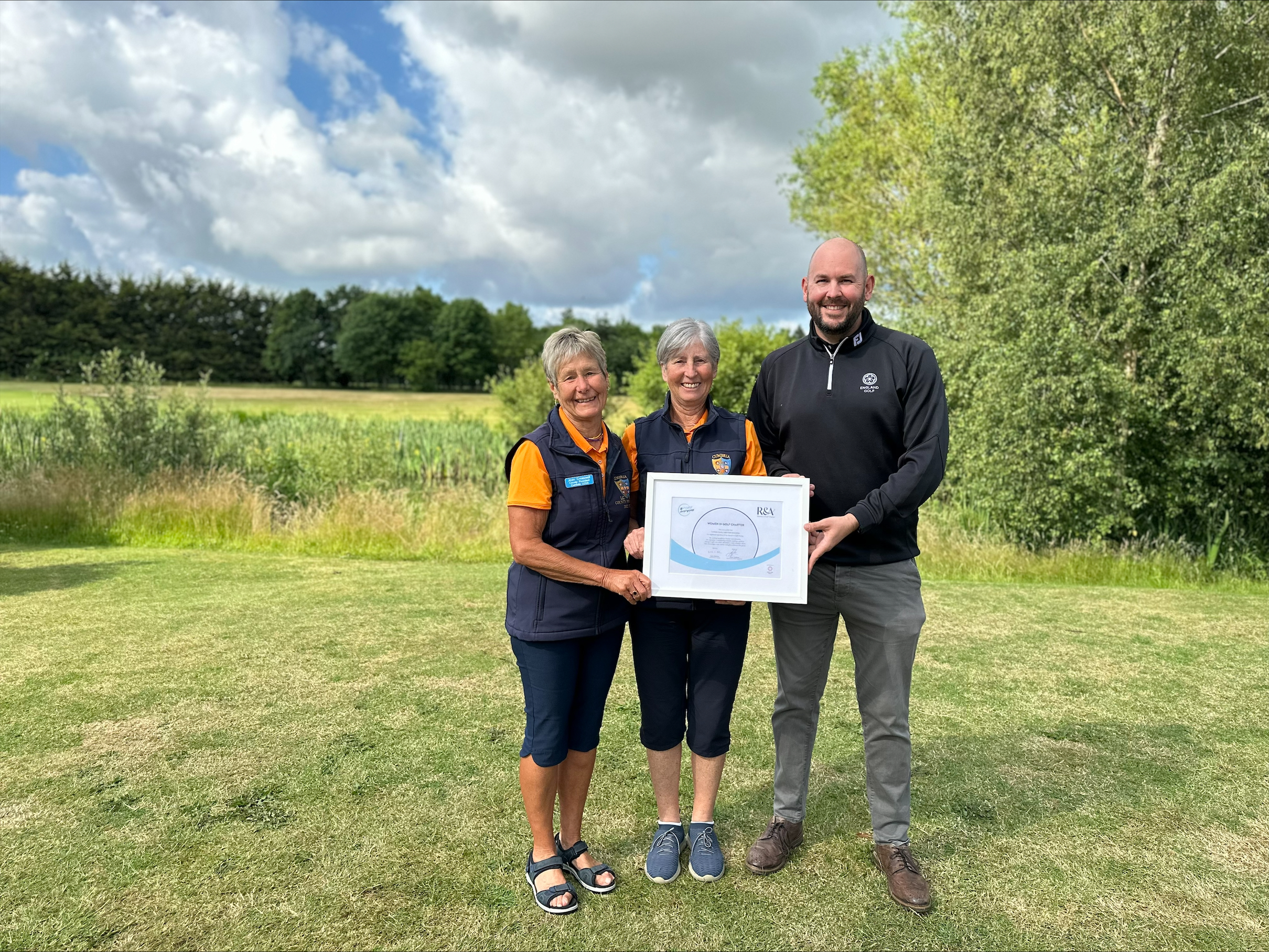 'Photo left to right: Joan Creswell (County President), Felicity Holloway (County Secretary) & Jason Budd (Regional Manager - England Golf).
Felicity said, 'We're thrilled to become the latest County to be signed off as an R&A Women in Golf Charter Signatory.
Our aim is to inspire and encourage more women & girls into the game by creating more opportunities for people to take up the sport whilst also promoting leadership roles within the County.
We're excited to play a small part in driving female participation across Cumbria'.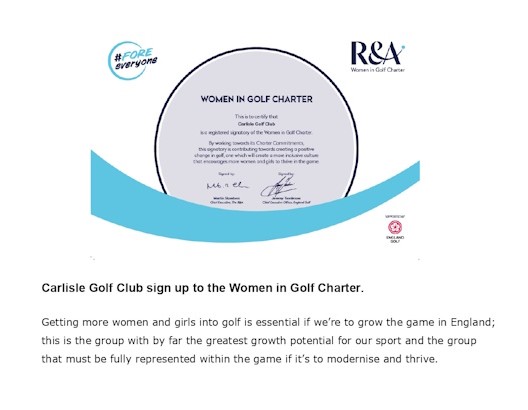 Thursday 8th June 2023 – 1DTT
County 1DTT at Carlisle GC on Thursday, such fantastic support from the clubs in the County and what a great day we had. 20 teams of 5 players plus trolley pullers headed out onto the course from 8.30am until the last tee at 2.10pm. The weather was bright and sunny but a cold easterly wind certainly kept things very cool! The recent dry weather made playing conditions tough, lots of run on the ball with hard fast greens and some interesting pin positions. The 18th in particular, which dealt a cruel blow if players didn't get the ball up onto the top level only to see it come rolling all the way back down to the bottom! Highlight of the day a HOLE in ONE – 13th green, Mary McPortland from Ulverston. Fantastic and well done Mary. Carlisle Golf Club Manager, Carol Clarke presented Mary with a bottle of sparkling wine which was promptly opened and shared amongst her team mates.
Many congratulations to the winners:
Best Gross (Individual) Nicola Tebbutt Carlisle Golf Club
Best Nett (individual) Mairi Stamper Maryport Golf Club
Best Gross Team: Carlisle Golf Club: Molly Davies, Sue Cotter, Nicola Tebbutt, Paula Dixon & Mandy McGrath
Best Nett Team: Workington Golf Club: Julia Lynn, Barbara Davis, Janette Roe, Christine Clarke and Dawn Stamper.
Well done and thank you to everyone who played, without your support it would have been a very different day.
This event goes with the County Captain and is hosted by her home club and so on a personal note and on behalf of the County I would like to say a massive thank you to Carlisle GC for hosting the event; to Club Manager Carol and her staff who looked after us all day long and could not have been more helpful despite having put in such a long shift. What a wonderful day we had and I hope you enjoy seeing the photos below. Apologies if I didn't manage to catch you all. Jenny County Captain.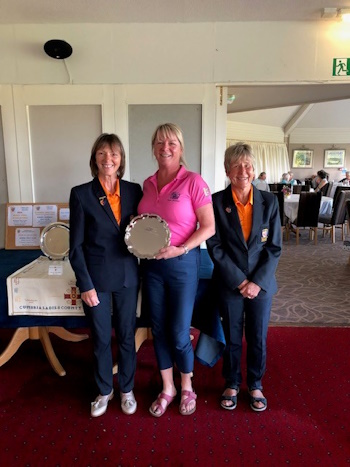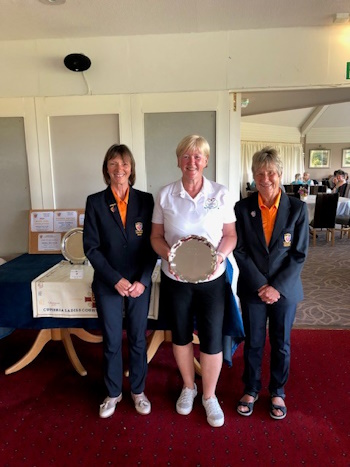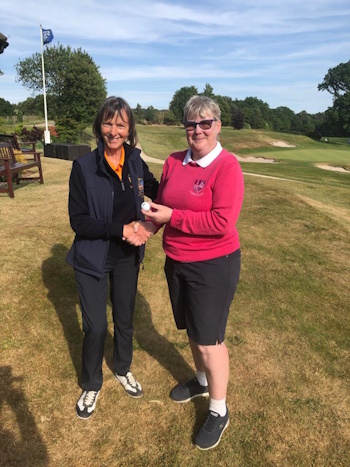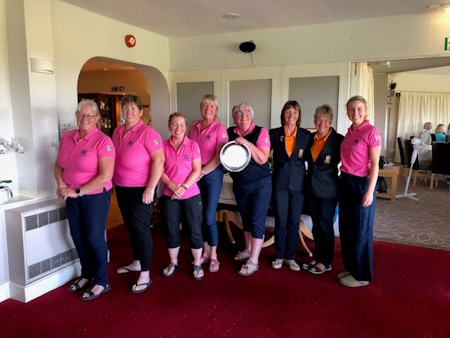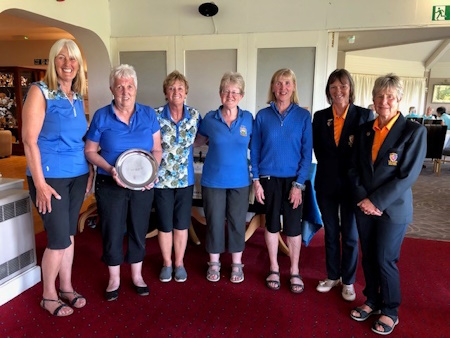 For all 1DTT Photos go to Competitions
Championship Final 30th May (pm)
What an exciting final we witnessed yesterday, hardly a whisper between these two amazing golfers. We didn't want it to end. Great friends off the course but on the course it's a competition and they were each in it to win it. It was birdie after birdie, in fact both ladies came in well under par for the round.
It was nip and tuck all the way with Abby clinching it in the end.
Many congratulation Abby, you have achieved a much coveted double as County Stroke Play Champion and County Champion. Well done. Only 8 players have achieved this since 1979 and so you join a very elite group.
Commiserations to Katie a very closely fought final.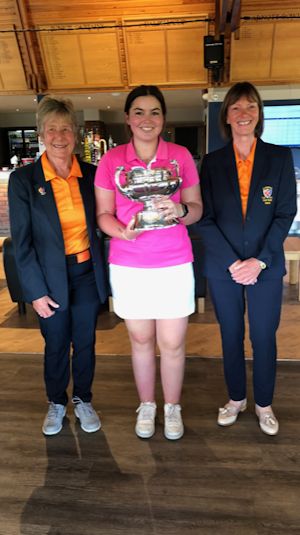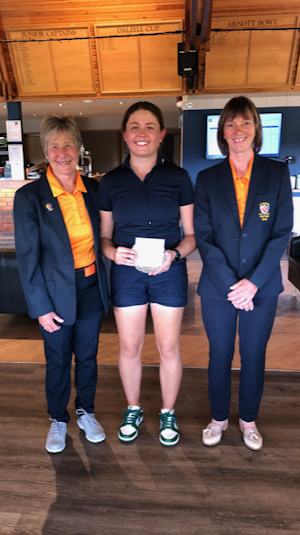 Well done and thank you to everyone who played, without your support it would have been a very different tournament. Thank you also to everyone who came along to support the players, I'm sure you will agree that we saw some incredible golf over the 3 days. Last but not least a massive thank you to Brampton GC for hosting the event, the staff could not have been more helpful and the course was in immaculate condition.
Championship Semi-Finals 30th May (am)
Brilliant semi-finals this morning, the golf was fantastic to watch. Very close matches pretty which much came down to putting. Abby winning her match against Nicola on the 17th and Katie winning her match against Becca 3/2. Looking forward to an exciting final this afternoon.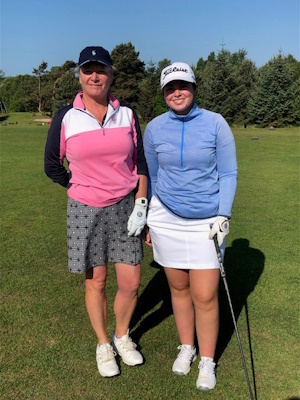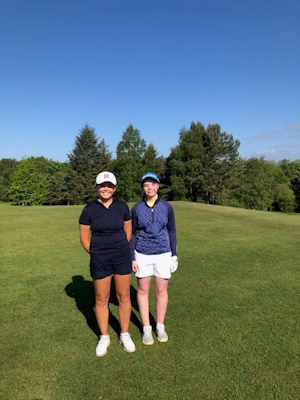 30th May 2023
Day two of the Championships at Brampton GC yesterday and the first round of the County Match Play Championship. The weather was glorious once again with the sun beating down all day and a gentle breeze to keep things cooler. Our 16 qualifiers headed out in the morning to do battle for a place in the quarter finals. Abby Roper, Rebecca McIntyre, Nicola Tebbutt, Gill Spedding, Jo Ashworth, Becca Wildey, Jodie Hodgson and Katie Sibley progressed to the quarter finals in the afternoon. By close of play Abby Roper, Nicola Tebbutt, Becca Wildey and Katie Sibley will go through to the Semi-finals this morning. There was some fantastic golf on display, par, par, birdie, birdie! Congratulations to our semi-finalists and commiserations to those who didn't quite make it. We are in for a treat today.
First day of the County Championships at Brampton GC today in the glorious sunshine, with a gentle cooling breeze. Playing conditions were tough, lots of run and fast with some challenging pin position fitting for a championship. After 36 holes of golf our County Stroke Play Champion is Abby Roper of Seascale GC. The Junior Girls was played over 18 holes with Becca Wildey of Eden GC taking the trophy. The Olive Coulthard Trophy (former bronze) was also played over 18 holes with Liz Mumberson of Cockermouth GC taking the trophy. Many congratulations to our winners and well done to everyone who took part today.

The 16 qualifiers from the Stroke Play Championships now go forward into the Match Play Championship tomorrow and Tuesday.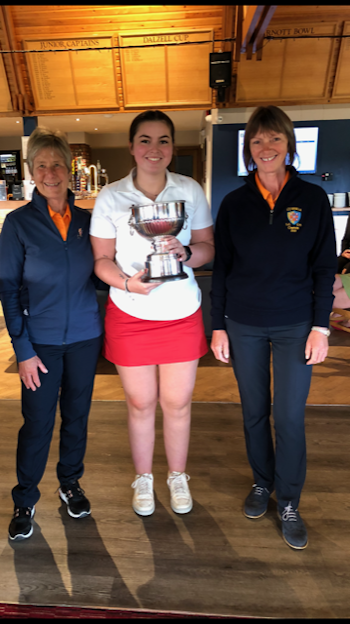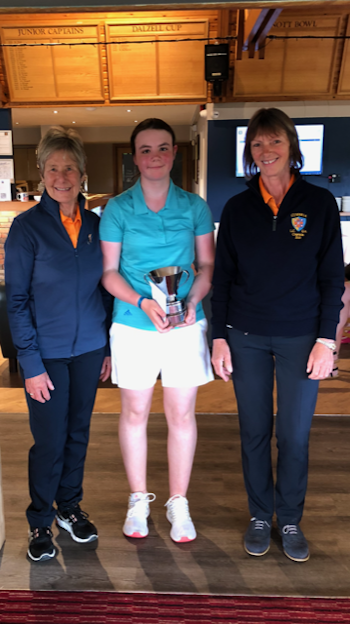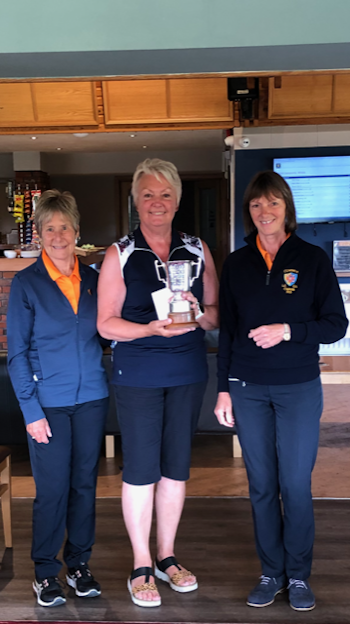 Carlisle Golf Club
Squad member Becca Wildey drove into office as Carlisle Junior Captain on Saturday 8th April hitting an awesome tee shot – 226 yards. Boom! Check out Carlisle Golf Club Instagram for an action video. The weather was glorious with wall to wall sunshine all day. Pictured with Carlisle Lady Captain Janette Smith and Men's Captain Geoff Fell along with members young and old who came up to support Becca. A day to remember. Well done Becca a great start to your year. Jenny CC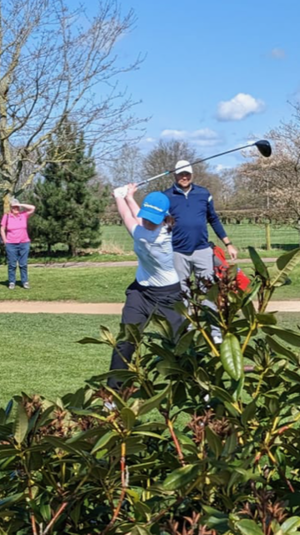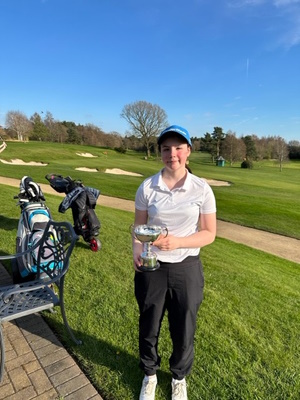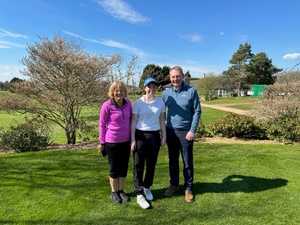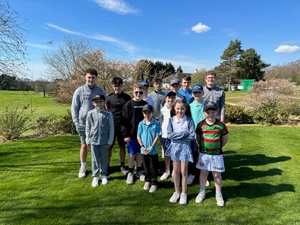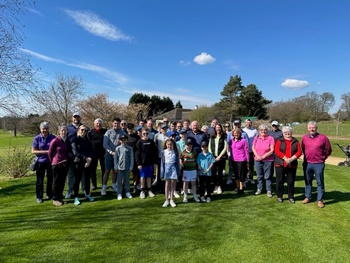 18th March
Spring Delegates Meeting out thanks once again to Penrith GC for allowing us to use their facilities. A great turnout with 32 delegates attending, thank you for your support ladies. County Captain, Jenny introduced the top table, Fliss Holloway, County Secretary, Helena Earl, Cecil Leitch League Secretary, Joan Cresswell, President, Carol Slinger, Competitions Secretary and Carol Slater, County Handicap Advisor. A wide range of topics were on the programme, England Golf, Handicapping, Competitions, Inter-club Leagues, Junior's and County Match Week. There was an opportunity to ask questions after each topic. Finishing with an open forum when ladies could ask questions on any topic/subject.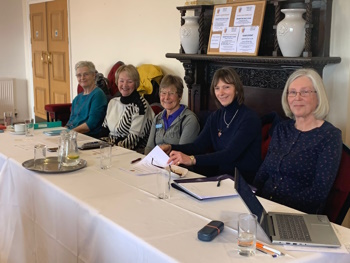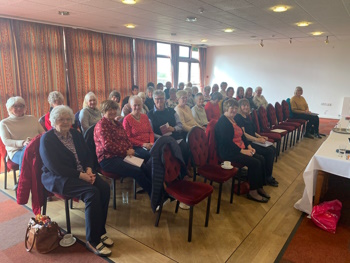 18th March – Competitions
County Competitions – full details are on the website. You can enter by downloading the entry form or by simply putting all of the information required in an email and send to Carol Slinger at clcgacomps@outlook.com. Payment is very simple and made via bank transfer, please remember to add your reference to the payment details. These competitions represent extremely good value at on average £12 per person. If you have any questions at all please get in touch with Carol on the email address above. Jenny CC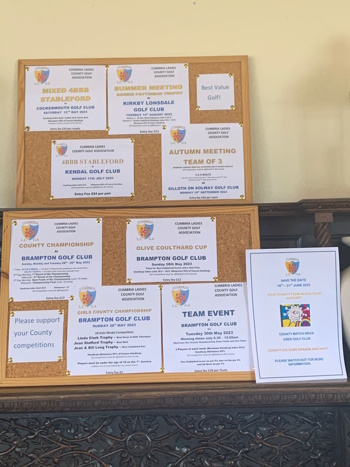 Carus Green Ladies Raise Money For MND