Juniors


Juniors
Junior Captain 2024
Carys McDonough of Bramapton GC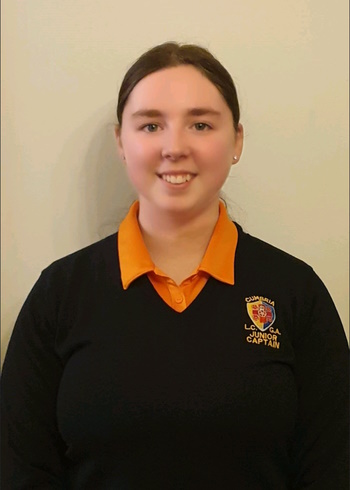 Safeguarding Policy and Procedures
Junior Bursary Application Form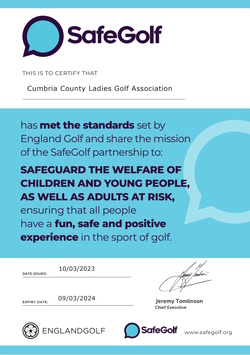 Junior Captain's Message 2023
It is a privilege and an honour to be selected to serve as your Junior County Captain
and I am looking forward to the year ahead and to working alongside the County Ladies
Captain Jenny as well as the existing and new members of the Junior squad.

I am eagerly awaiting the new season and the challenge that it offers for me as Captain
and for my fellow Team members as we continue to promote and develop Ladies and
Girls golf across the County and to build on the excellent work done by previous Captains.

The new season offers many opportunities and I look forward to representing Cumbria,
leading the team in the County representative matches and to be taking part in the various
County competitions and non-more so than the County Championships which will take place
at my home club, Brampton Golf Club between Sunday 28th and Tuesday 30th May 2023; a
wonderful opportunity to play some fantasticgolf on a beautiful golf course.
Wishing all Golfers a fantastic 2023 Season,
Carys McDonough
JUNIOR GIRL'S SESSION EDEN GOLF CLUB SUNDAY 22ND OCTOBER 2023
It is with regret that the decision has been made to cancel tomorrow morning and afternoon sessions. The ground conditions are such that all activities would be been severely restricted if not impossible. Many apologies that this is short notice but we had wanted to delay our decision for as long as possible in the hope that things would improve. Sadly not to be! We will update everyone with details of any future events.
ULVERSTON JUNIOR GIRLS DAY – SUNDAY 8TH OCTOBER 2023
It was a perfect day for the girls, weather wise. 12 girls took part, they started with a warm up then chipping and putting challenges in teams. Then we moved to the range, again with some great challenges all enthusiastic when there were prizes involved, Jamie dodgers and sweets then a 2 shot impossible challenge for even bigger prizes! I must say Tom was sweating on this one with some great shots being played. Beth was a great help for Tom setting up the challenges while Rose and I collected a lot of golf balls on the range to clear the way for the range challenges. Don't forget we have another day at Eden GC on Sunday 22nd October. Hope to see you all again soon. Joan County President.
County Junior Captain Carys McDonough wins the St Andrew's Junior Ladies Open Quaich (H'cap), beating Orla Rooney in a close final taking the match 2/1. The final was played over the Old Course which is a challenge in itself. What a fantastic photo – on the Swilcan bridge with the Girls' Open Quaich trophy in hand, huge congratulations Carys, we are all very proud of you. Well done , Jenny. CC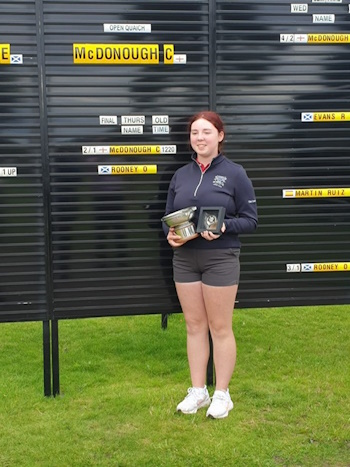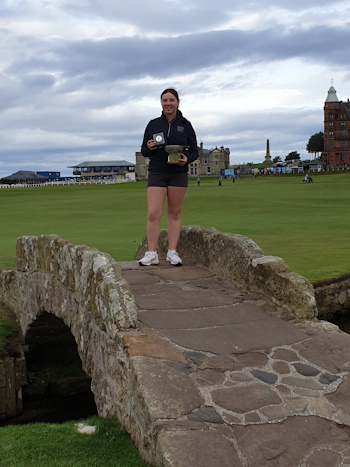 Due to current uncertain weather conditions, the Junior Committee have decided to wait for the prospect of better weather before setting dates for future events at Ulverston and Eden.

Dates will be posted here and, on our Facebook page, as soon as possible.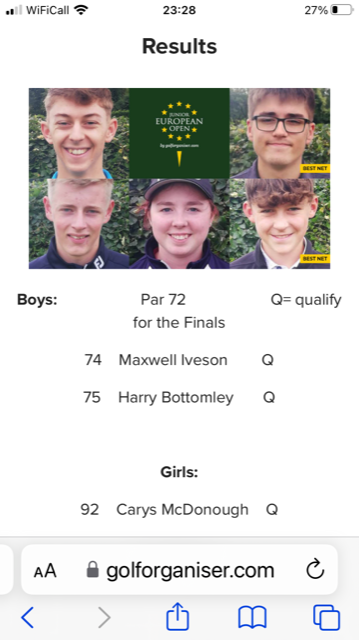 Junior Girls Captain, Carys McDonough is on her travels once again, only this time she will need her passport! Destination, Cadiz Spain 17th-25th November to play in the Junior European Open Champions Week which is played over 5 days on two of the top courses in Europe.
Carys recently played in a Regional Final at Low Laithes GC, W. Yorks taking top place.
As part of her prize, she will receive the following: all green fees (minimum of four rounds plus a fifth for those who make the cut), 7-nights' accommodation in first class location, specially commissioned individually personalised trophies to all the finalists and prize-presentation dinner with drinks.
The Junior European Open, first staged in 1993 and now in its 31st year, is widely considered as the toughest test in junior golf across Europe.
Really well done Carys, it sounds fantastic and so well deserved, you put such a lot of time and effort into your game. Good luck we will all be routing for you, play well and enjoy the experience.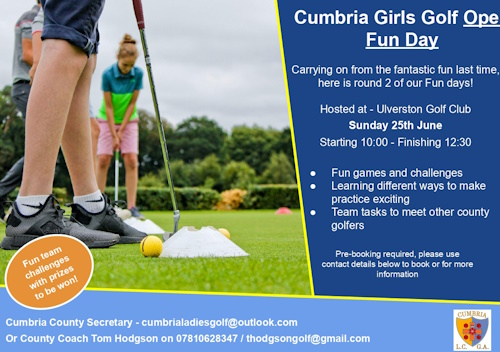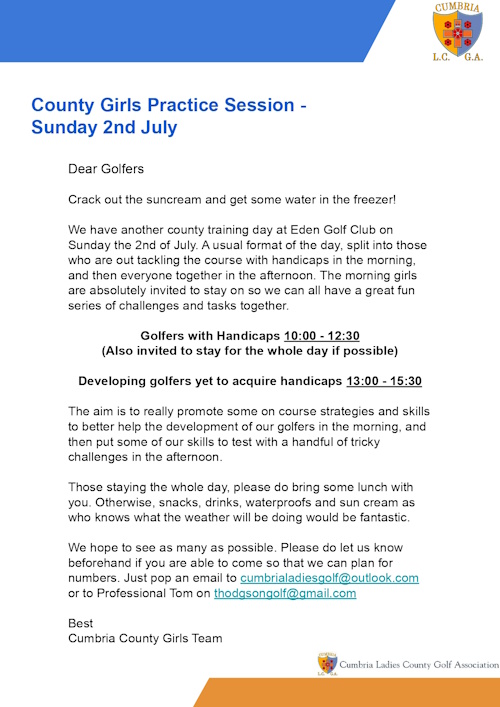 Training session at Ulverston, unfortunately has to be rearranged, date to be confirmed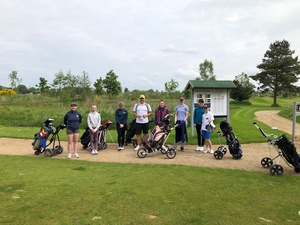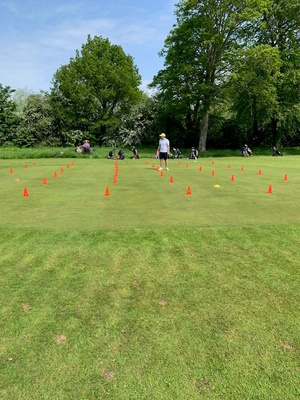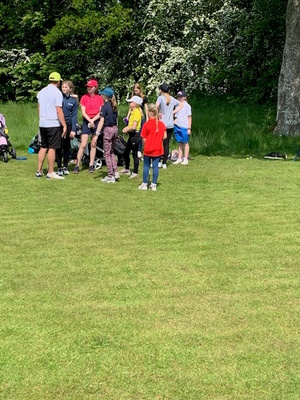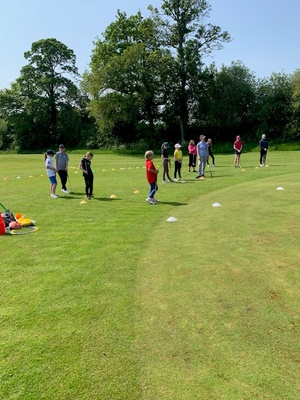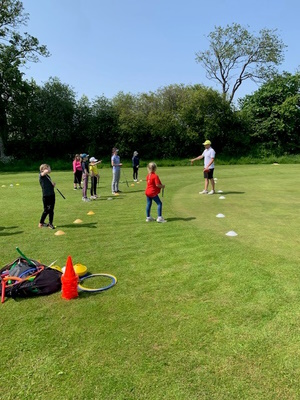 Eden 21st May 2023
Another great session on Sunday with our Junior Girls at Eden with Tom in the glorious sunshine. Seven girls headed out onto the Hadrian's course in the morning for "Bingo Golf" – something Tom had devised. A bingo style sheet of paper with squares containing different challenges; tee shots, fairway shots, chipping, and putting. Getting out of bunkers was also included which was a little difficult if you were lucky enough not to go in one. Something for everyone! Girls ticked through the various challenges as a team with the aim of getting a full house. Great fun and with a purpose.
Eleven girls took part in the afternoon session which was back on the practice area where once again Tom set up his usual challenges covering the short game and putting.
More dates are planned for Eden and Ulverston, dates and times to be advised.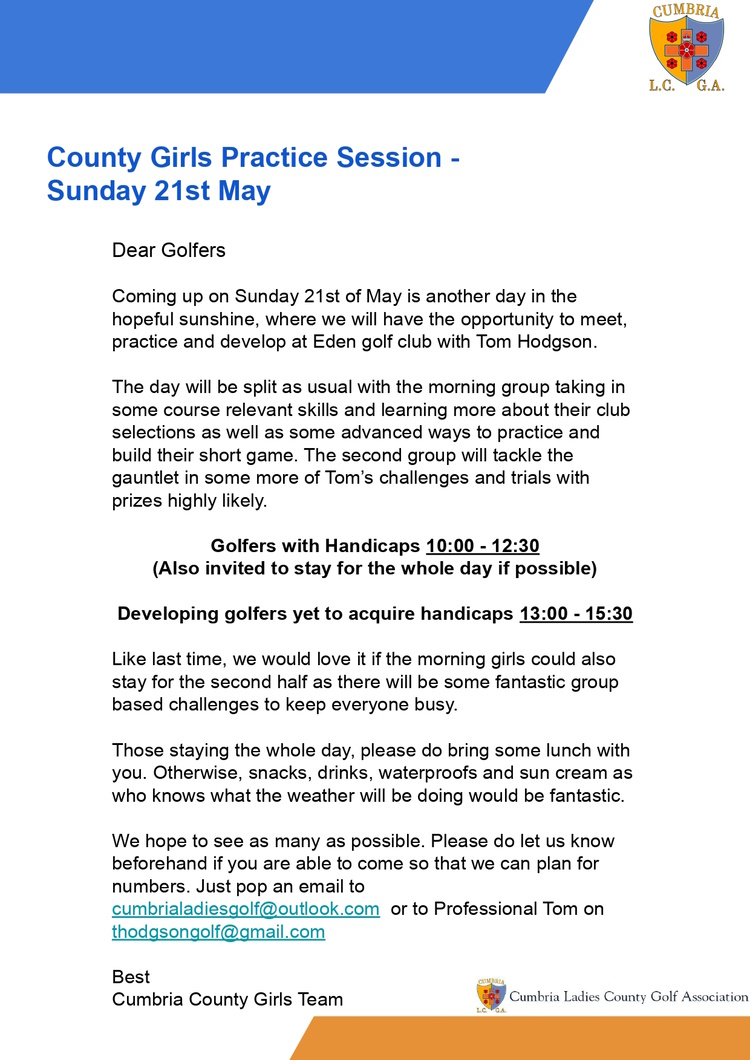 Ulverston Golf Club Girls Open Invitation Day - 30th April 2023 Despite the rain we had 9 very keen and enthusiastic girls come along to our event at Ulverston Golf Club on Sunday. County coach Tom started the session with short chipping and then moved on to the range for lots of different challenges. Plenty of biscuits and sweets were up for grabs! The girls thoroughly enjoyed their morning and are all looking forward to another session which we hope to arrange soon. Meanwhile many thanks to Tom, Fliss (County Secretary), Joan (County President), Rose Saunders (Ulverston GC), Alyn Cousins (PGA Pro Ulverston GC) and last but not least of all Ulverston GC for allowing us to use their fantastic facilities.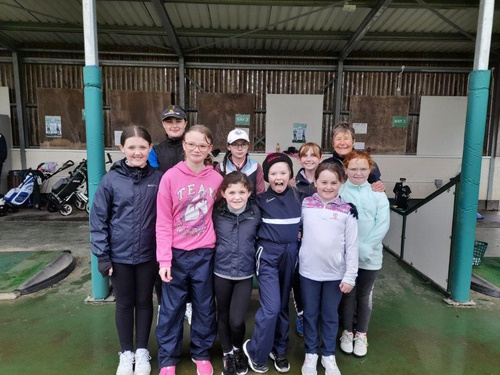 County Junior Open Day at Eden on Sunday 23rd April, what great weather we ended up having despite the 'not so good' forecast earlier in the week. The morning session was aimed at those girls with a handicap index or in the process of attaining a handicap index. Seven very keen and enthusiastic girls headed out onto the Hadrians Course with Tom in search of difficult lies, alternate conditions and tricky situations. Yes, we have all found these from time to time when we least want to. Practice makes perfect though and it's no good if we only ever practice the perfect lies on big open fairways all the time. If only.
After a short lunch break the afternoon session was opened up to everyone who wanted to come along and develop their golf. We all headed over to the outdoor practice area where Tom had set up some very mean skills based challenges designed to promote the ability to perform under course relevant stress and pressure. He didn't disappoint.
Challenges included putting, chipping and target golf. One proved to be particularly frustrating – chip through a hoop no less! I mean just look at the photo. All the girls were determined to succeed and didn't give up until they had nailed each challenge. The day ended with a team challenge v Tom, think the girls won ---- again!
Another date for your diaries – Sunday 21st May Eden GC. More info to follow.
Meanwhile don't forget we have our Junior Girls Open morning at Ulverston GC on Sunday 30th April 10am to 12.30am. Scroll down to the poster for details.
Jenny CC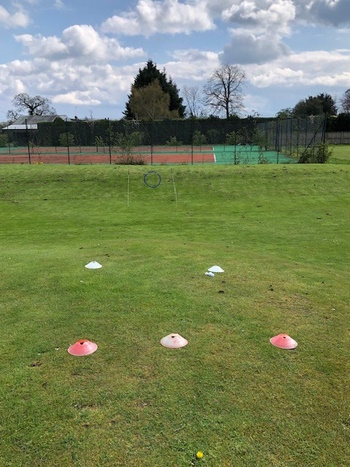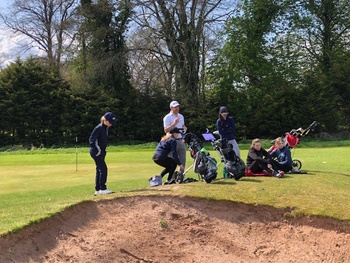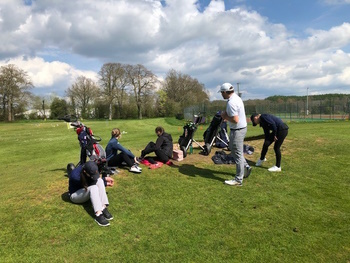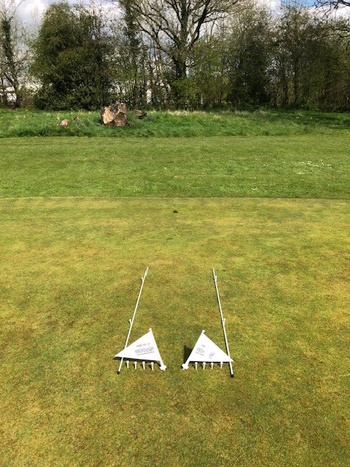 Cumbria Girls Ulverston Golf Club 30th April
We would like to invite all junior girls (U18) to come to a fun morning of golf at Ulverston Golf Club. This is for any girl who is interested in golf, from those with a handicap to those who just want to come, swing a club and see what's it's all about. The girls will get to meet Tom Hodgson, our County coach, who will entertain them with his games and challenges and no doubt offer edible rewards. Moams and Jammie Dodgers are favoured! To help prepare and plan for numbers it would be really appreciated if you could contact Fliss, County Ladies' Secretary or Tom on the email addresses shown on the poster please. The more the merrier.
Junior Training 12 February
Junior Training 5 March Cancelled
Junior Training 26 March Cancelled with Tom Hodgson - Meet driving bays 9.45 coaching 10.00 - 12.30
Girls Open Invitational Day Eden 23 April GC 10.00
Girls Open Invitational Day Ulverston GC 30 April 10.00
Junior Training 21 May
Further Training Dates To Be Confirmed
Northern Counties Junior Jamboree 1 - 2 August Bromborough GC Cheshire
Submenu