Fun Events 2018
HALLOWEEN FUN DAY

What a beautiful day for the Halloween Fun Day and the last event for Belinda Rigby as CJO.
Professional Graeme Lisle had certainly set up an eventful day for us all. Chipping over a bunker to the pumpkin, putting to the eyeball, 50 yard shot to the pumpkin, best decoprated pumpkin and the Halloween Rap! 14 girls, plus exec, thoroughly enjoyed all the evetns with CJO Belinda's team winning. Think it was a bit of a fix myself - Ha Ha!
After lunch we all went on the course for a four hole Texas Scramble. This time County Captain Carole's team won - Yipee!
Afterwards we all went in for the presentation and CJO Belinda said a few words about the super win the Cumbria Junior Girls had at the Junior Jamboree at Gosforth Golf Club in August. As four of the team were present Belinda presented them with the Trophy again.
Graeme Lisle finished the day off by congratulating Belinda for all the work she has done over the years for the Junior Girls and presented her with some flowers and a bottle of fizz as did many of the junior girls which was lovely.
Well done Belinda, you have been magnificent and will be a hard act to follow.
County Captain Carole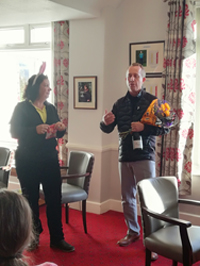 | | | | | |
| --- | --- | --- | --- | --- |
| | | | | |
| | | | | |
| | | | | |
| | | | | |
| | | | | |