Juniors
Selection Day 2019
for Under 14 and Under 18
---
Safeguarding Policy and Procedures
---
Junior Bursary Application Form
---
Junior Jamboree
Cumbria are well and truly on the map!
Cumbria Junior Girls won the Northern Counties Junior Jamboree at Gosforth Golf Club, Northumberland. It was a double for Cumbria as Libby Hudson from Eden Golf Club was the individual Jamboree Champion!
Team:
Jodie Hodgson (Appleby GC)
Temerity Botterill, Alissa Thompson and Sophie Coombe (Workington GC)
Libby Hudson and Holly Bowman (Eden GC)
Results:
Cumbria 63 pts
Cheshire 62 pts
Yorkshire 56 pts
Durham 55 pts
Lancashire 54 pts
Northumberland 41 pts
CONGRATULATIONS! Well done girls.
Thanks go to Belinda Rigby who does so much work for the juniors and what a reslt for her in this her final year as CJO. Go Belinda! Go Cumbria!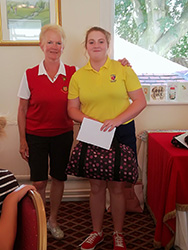 Libby Hudson
Eden Golf Club