Leagues
Presentation Evening 2018
Lovely evening last Friday at Workington Golf Club for the annual league presentation dinner.
Congratulations to all the team winners and the individual winners. Well done to Silloth Cecil Leitch Team winning the overall Cecil Leitch Shield (not that I'm biased) and to Carlisle A Team for retaining the Silver League Shield.
Many thanks to Jane Harper, Silver League Secretary and Helena Earl, Cecil Leitch Secretary for their work throughout the year and organising the evening.
Cumbria Ladies County Team also joined in the celebrations in recognition of their brilliant success at Northern Counties Match Week at Huddersfield this year.
Thanks to Workington Golf Club for hosting the event and the catering and bar staff.
Helena Earl, Cecil Leitch Secretary and Jane Harpert, Silver League Secretary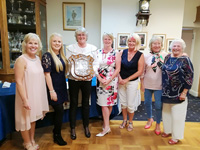 Cecil Leitch Silver Shield Winners - Silloth Golf Club
Silver League Division 1
Carlisle A

Silver League Division 2
Kendal

Silver League Division 3
Silloth A
Silver League Division 4
Carus Green
Silver League Division 5
Silloth B
Silver League Division 6
Windermere B
Cecil Leitch Division 1
Kirkby Lonsdale
Cecil Leitch Division 2
Carlisle A
Cecil Leitch Division 3
Silloth
Cecil Leitch Division 4
Cockermouth
Cecil Leitch Division 5
Carus Green