Championship
County Champion 2017
NATASHA SLATER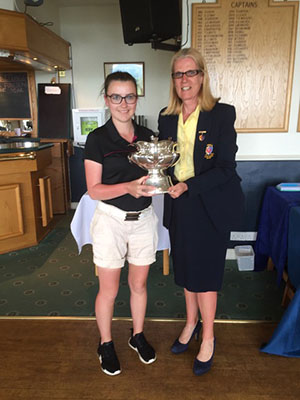 Sarah Cousins
County Champion Runner-up

Harriet Barker
Semi-Finalist

Abby Roper
Semi Finalist
Congratulations Natasha!
Natasha Slater
Tee Shot of Final
Sarah Cousins
Tee Shot of Final

1st Semi-Final
Sarah Cousins and
Abby Roper

Final
Sarah Cousins and
Natasha Slater
2nd Semi-Final
Natasha Slater and
Harriet Barker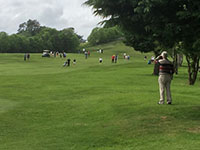 Great turnout for the Final
What a fantastic three days of championship golf!
Thank you Kendal Golf Club for all you have done for us this week - you have been outstanding both on and off the course.
As you may have already seen from an earlier post, we had two very exciting semi-finals this morning, Sarah Cousins (Ulverston Golf Club) played Abby Roper (Seascale Golf Club) with Sarah winning on the 20th hole. Abby's drive on the 20th just ran out of fairway and was so unlucky but the match really could have gone either way.
Natasha Slater (Ulverston Golf Club) played Hariet Barker (Carus Green Golf Club) and again holes were being halved in birdies. Natasha just edged her way in front and kept her cool especially when Harriet sunk a 40ft putt on the 15th for a birdie to take the match down the 16th ultimately winning.
So in an all Ulverston Final, spectators were treated to top flight golf on what had become an extremely windy afternoon. In a match full of birdies - Natasha again just got herself in front and managed to hold on. Sarah was really unlucky to hit her drive on the 15th into OB (just out by about 1ft) and eventually conceded the hole to Natasha and the match.
Natasha is Cumbria's 2017 County Champion and runner-up Sarah Cousins (Ulverston Golf Club).
Well done girls
Jo
County Captain