Gallery
County Squad -v- Cumbria Senior Men
Penrith Golf Club - Monday, 2nd May 2016
9 Holes foursomes in the morning and 18 holes singles in the afternoon - all off scratch.
Great day and some extremely close results. Thanks to Captain Lionel Dobson and his team and a hugh thanks to our Squad: Caitlin Whitehead (Kendal GC), Natasha Slater (Furness GC), Rebecca McIntyre (Carlisle GC), Sarah Cousins (Ulverston GC), Hannah Smith (Silloth GC), Mel Temple (Seascale GC), Rosie Waller (Kendal GC), Nicola Wood (Furness GC), Erin Woodhouse (Furness GC), Sarah Longstaff (Eden GC), Ellie Broom (Kirkby Lonsdale GC), Paula Dixon (Carlisle GC), Katie Sibley (Carlisle GC) and Abby Roper (Seascale GC). Big thanks to Abby for stepping in for a poorly Emily Smith (hope you're feeling better). Well done Caitlin and Natasha for winning both your matches; Hannah Smith for winning foursomes with Natasha; Sarah C. for winning foursomes with Caitlin; Paula and Sarah L. for winning your foursomes and Mel and Nicola for winning your singles. Also huge congratulations to Nicola Wood who holed her second shot on the par five 18th for an Albatross!
| | | |
| --- | --- | --- |
| | | |
| | | |
| --- | --- | --- |
| | | |
---
County Squad -v- Carlisle Men - Sunday, 10th April
What a fabulous day at Carlisle Golf Club. The Squad took on the men's scratch team playing the first 9 holes foursomes and then singles over the back nine. Although the ladies lost 14-6, a lot of the matches were extremely close with losses on the last.
RESULTS
Foursomes: Caitlin Whitehead/Sarah Cousins - half: Natash Slater/Hannah Smith - won: Rosie Waller/Nicola Wood - half: Mel Temple/Harriet Barker - lost: Ellie Broome/Katie Sibley - lost: Paula Dixon/Emily Smith - lost:
Singles: Caitlin Whitehead won: Sarah Cousins lost: Natasha Slater halved: Hannah Smith won: Nicola Wood lost: Rosie Waller lost: Harriet Barker lost: Ellie Broome lost: Katie Sibley lost: Paula Dixon lost: Emily Smith lost: Abby Roper halved: Ella Skilbeck won.
Just to mention that the men's handicaps ranged from +3 to 6 (excluding the two juniors at the back).
Highlights of the day: Well done Caitlin who beat the +3 player; Harriet who only lost 1 down on the last; Abby for a fantastic half and Ella (not mentioning the 1st) shot well below her handicap and winning her match in the process. Well done to our newer juniours to the Squad, Harriet, Ellie, Katie, Emily, Abby and Ella for playing so well and we hope thoroughly enjoying the day. Well done Hannah for winning both your matches. County Captain Sheena, President Mary and Vice-Captain Jo were all extremely impressed wih the quality of golf - the future is looking good! A big thank you to Carlisle Golf Club for use of the course and the Carlisle men for turning out so early on a Sunday morning.
PS: Happy Birthday to County President Mary!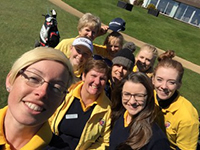 ---

County Squad -v- Northumberland - 24th April 2016
The annual friendly against Northumberland Ladies took place at Stocksfield Golf Club.
18 Holes of foursomes which gave both teams great practice for the (soon to be here) County Match Week. The result went Northumberland's way .... three matches to one with one match going to the 18th. Spectators witnessed some excellent golf - one hole being halved in birdies. Thanks to Sue Coughtrie (Captain Northumberland) and her Vice-Captain, Claire Whitfield, for welcoming County Captain Sheena and County Vice-Captain Jo and the team and for making us feel so welcome. Also Stocksfield Golf Club for allowing us to use their facilities.
We also had the chance to give the new county waterproofs an outing which went down well with the girls. Thanks to all of you who purchased a raffle ticket, entered a county open and donated 50p etc. so that the county could purchase them.

---
County Squad -v- County Vets
on 13th March 2016 at Kendal Golf Club
The County Squad won 11-7 after playing Foursomes for nine holes and singles for the back nine holes.
Some fantastic golf and a great opportunity to get some of the younger squad members into action.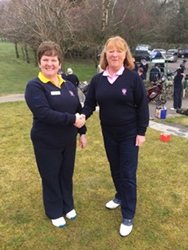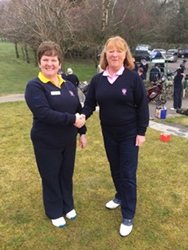 ---

Squad Coaching and Training
27th February
with Alyn Cousins (Coaching) and Claire (Fitness)
---
Squad Training Day
at Ulverston Golf Course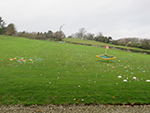 ---