2018 Matches
Cumbria County Ladies -v- Carlisle Men's Scratch Team
Sunday 8th April at Carlisle Golf Club
A lovely dry calm day for our match against Carlisle Men's Scratch Team.
As last year both teams had 12 players, this was including two juniors. The format for this match was 9-holes foursomes and 9-holes singles. The matches are played off scratch but the ladies get two shots to balance off the standard scratch.
First out was Carlisle Lady Champion, Katie Sibley and partner Abby Ropert (Seascale GC) who were against Men's County Captain, Neville Johnston and Geoff Nixon. Katie halved her match and Abby won hers 2 up. Neville had nothing but admiration and praise for both girls!!
The men dominated in the foursomes winning five of the six matches but the ladies turned this around in the singles by winning five, halving four and losing in three. County Junior, Rebecca Davidson (Penrith GC) who plays off a 14 handicap lost her match 2 down but was up against it playing against a junior with a 4 handicap off scratch. Great experience for her.
Final Result: County Squad 16 Carlisle Men's Scratch Team 18
The match was followed by a beautiful beef dinner and a sweet for all players and executives.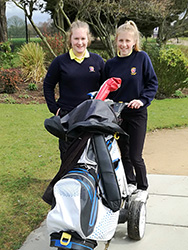 ---
Cumbria County Ladies -v- County Ladies Vets
Saturday, 24th March at Silloth Golf Club
We were blessed with a beautiful sunny day with light winds at Silloth for our match against the Vets.
The Vets team arrived with 12 members. With the County Squad only having a team of 11, thanks must go to Janet Messenger (Silloth GC) who came along in the final hour to make up the last four ball.
County Vice-Captain, Janette Roe, played for the County Vets Team!!
The format for this match is 9-holes foursomes followed by 9-holes singles match play.
Myself and County President, Marion Glassbrook witnessed some beautiful golf
The County proving their place leading 10-2 after the foursomes, winning five out fo the six matches.
The trend continued for the County Team in the singles matches. Our young players certainly came up trumps. Katie Sibley (Carlisle GC) and Abby Roper (Seascale GC) won their matches 5-0 up while Naomi Brennan (Seascale GC) won hers 7-up. Outsanding play!
The County Squad won 10 singles, halved 1 and lost 1.
Final Result: County Squad 31 County Vets 5
The course was in excellent condition for the time of year especially after the adverse weather there had been over the last several weeks.
Speeches were made by both myself and County Vets Captain, Rosie. Rosie praised the talent and standard of golf within the County Squad.
---
Cumbria County Ladies -v- Northumberland Ladies
Sunday, 22nd April 2018 - Blyth Golf Club
County President, Marion County Vice-Captain Janette, eight of the squad and myself travelled to Blyth for our friendly match against Northumberland. It was wet when we arrived but we were all geared out with County waterproofs and our new Sta Dry Titleist County Golf Bags.
We received a warm welcome from County Captain, Candy Brown and the Northumberland Squad.
The format was better ball match play. By the time the last four ball went out the rain had cleared but a cool east wind kept blowing which added to what was already turning out to be a long course.
We watched some great golf and superb putting.
Mel Temple and Nicola Wood were up against it with one of their opponents, Rachel Gourley playing 4 under for the day. They lost their match 2-1. Hannah Smith holed a 15ft putt on the 13th par 3 for a two, sealing the match for her and Harriet Barker 7-5. New pairing Rebecca McIntyre and Naomi Brennan had an excellent win 4-3. Abby Roper also sank a long putt on the 13th for a two to go ahead 1 up. A real nip and tuck match with Abby and Katie ending with a great half and victory for Cumbria!
Final Result: Cumbria Ladies 2½ Northumberland Ladies 1½
The match was followed by a Sunday chicken dinner and dessert.
Both Captains commented on the golf and friendship between the two counties.
Thanks to Blyth Golf Club for courtesy of the course which was in good condition after all the wet weather there had been.