Autumn Meeting
I
CUMBRIA LADIES COUNTY GOLF ASSOCIATION
AUTUMN MEETING
Naworth Cup
WINDERMERE GOLF CLUB

Thursday, 26th September 2019
2018
The last County Ladies Open of 2018, the Autumn Meeting, was held at Seascale Golf Club, 24 Teams entered. Although the weather didn't behave itself it was a good day.
Winners and the first team in were home team. Lady Captain, Christine Fawcett, Sarah Baker and Sadie Cavanagh with 71 points.
Isobel Williams had two 2s and an eagle!! Well done Isobel.
Congratulations to all the winnders.
Many thanks to Seascale Golf Club for hosting the event and to Lady Captain, Christine and lady members of Seascale Golf Club for all their help and the beautiful flowers.
Lady Captain Christine presented County President Marion, with the main table flowers in recognition of all the work she has done for Seascale Golf Club and as President of the County. Lovely end to a great day.
County Captain, Carole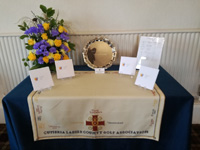 Winners:
Christine Fawcett,
Sarah Baker and
Sadie Cavanagh
Seascale Golf Club

Third:
Isobel Williams, Ruth Coleby
and Linda Young
Penrith Golf Club

Fourth:
Irene Coy, Robyn Mavir
and Eve McElhinney
Cockermouth Golf Club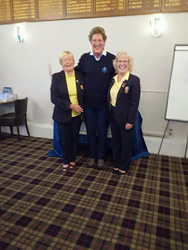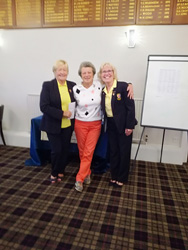 Twos:
Christine Fawcett (one) and Isobel Williams (two)