Caley McGinty
, 18 (Knowle) won the U18 prize at last year's St Rule Trophy, where sh was 10th voerall. She also had top ten finishes in the Irish and Welsh Women's Opens.
Mimi Rhodes, 17 (Burnham & Berrow) reached the last 16 in the British Girls' Championship and was fourth in the English Girls' Championship.
Emily Toy, 21 (Carlyon Bay) won the 2019 New South Wales Stroke Play Championship and was fourth in the English Women's Amateur.
Caitlin Whithead, 16 (Carus Green) won the 2018 European Young Masters, the Asia Pacific Junior Championship and the West of England Open.
---
Kate Sibley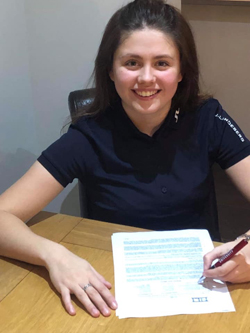 Busy start to the New Year for our very own Katie Sibley Of Carlisle GC signing for Lenoir Rhyne in North Carolina. Katie will begin her college careers in August 2019.

Coach Elliot Gealy is delighted to have added Katie after signing Scottish Boys 2018 runner up Liam Waldron at the end of last year.

Many Congratulations from all of us.
---