Our News
County Cards
The Cumbria County Card is available to all bona fide members of golf clubs affiliated to the Cumbria Union. The card gives the member the opportunity to play all of Cumbria's courses at a discount of about 50%. Members must ring the Club to ensure that they can use the card on the days they want. It is not available for use on Bank Holidays or Week-ends. For a list of participating courses visit www.ncgu.co.uk
---
Cumbria Golf App
The Cumbria Golf App has now gone live and is available to download. It is free and can be found at Google Play (Android users) and the Apple App store under Cumbria Golf
---
Kate Sibley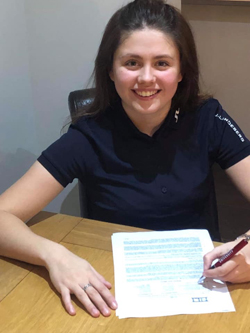 Busy start to the New Year for our very own Katie Sibley Of Carlisle GC signing for Lenoir Rhyne in North Carolina. Katie will begin her college careers in August 2019.

Coach Elliot Gealy is delighted to have added Katie after signing Scottish Boys 2018 runner up Liam Waldron at the end of last year.

Many Congratulations from all of us.
---