CLCGA

Captain's Message 2018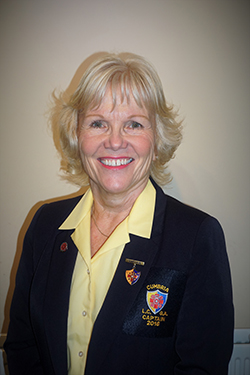 I am truly honoured and privileged to be County Captain of this beautiful county of Cumbria. We have a great executive committee at the helm with a new County Secretary, Miss Kathleen Gibson from Workington Golf Club and County Competition Secretary, Mrs Pat Wimpress from Cockermouth Golf Club. I am looking forward to working with them along with President, Marion Glassbrook from Seascale Golf Club and Vice-Captain Janette Roe from Workington Golf Club.
Northern Counties Match Week is at Huddersfield Golf Club from 18th to 22nd June 2018. Although Yorkshire is one of the counties that is further for us Cumbrians to travel, your support to the county team I know is much appreciated and hope to see as many of you there as possible. To see all those gold/yellow tops around the course at Morecambe last year was so encouraging for the squad!
County training this year will be at Carlisle Golf Club working with Professional Graeme Lisle. Graeme already coaches our junior team of which several of these talented young girls are in our county squad. Along with County Junior Organiser, Belinda Rigby, working so hard to nurture these girls, there is no wonder these youngsters are doing so well and making it such a difficult task in picking the county team.
I am looking forward to meeting many Cumbria lady members on my travels around the county and would like to take this opportunity to thank all the clubs that are hosting our opens and practice matches this year.
I am really looking forward to my year as your County Captain and wish you all a healthy and successful golfing season in 2018.
Carole
County Captain
---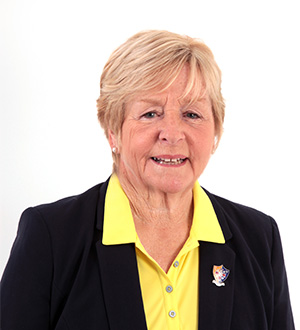 President's Message 2018
It is an honour and privilege to be County President of Cumbria for a second year.
2017 was a great year for all our Cumbria Junior Girls with the Junior Jamboree being hosted by Carlisle Golf Club. Cumbria has a lot of talented young golfers, some of whom represented Cumbria for the first time at Northern Counties Match Week which was held at Morecambe Golf Club, they certainly did us proud. I look forward to supporting County Captain Carole, County Vice Captain Janette and the County Team, and to meeting old friends and new ones on my travels around the county.
I would like to take this opportunity to wish everyone an enjoyable and successful golfing season in 2018.
Marion Glassbrook
County President
---